German Warmbloods are a group of prestigious horse breeds that are praised worldwide for their versatility in dressage, show jumping, and eventing fields. Their powerful physique, harmonious proportions, and dynamic movement combined with exceptional temperament make them a desirable choice among equestrians. The array of German Warmblood breeds such as Hanoverian, Oldenburg, and Holsteiner, each have unique characteristics that cater to riders with different preferences and riding styles. This article gives an in-depth exploration into the world of these enchanting breeds, understanding their health and care needs, the process of purchasing one, and insights into their training and riding.
Table of Contents (Horspedia)
Understanding German Warmblood Breeds
Overview: German Warmblood Breeds – The Cream of Equestrian World
Renowned for their power, grace, and versatility, German Warmblood horses are some of the most prestigious breeds around the globe. They encompass a variety of distinctive types, including the Hanoverian, Oldenburg, and Holsteiner breeds. German warmbloods are highly sought after in the sales market, prized for their distinctive traits and abilities in a myriad of equestrian disciplines such as dressage, show jumping, and eventing.
Hanoverian: Athleticism And Elegance
Possibly the most recognized German Warmblood breed, Hanoverians are marked for their powerful, elastic gaits and unrivalled athleticism. Bred to be fearless and agile, Hanoverians are prime candidates for high-level competition horses. They have a well-muscled, elegant physique and a distinguished head with large, expressive eyes. Temperamentally, Hanoverians are known for their relaxed personalities and willingness to work, making them a favorite among amateur and professional equestrians alike. These traits, combined with their proven success in international competitions, make them a popular choice in German warmblood sales.
Oldenburg: Powerful And Versatile
The Oldenburg breed, known for its size and power, is an accomplished all-rounder in the equestrian world. This breed displays a commanding presence with an impressive stature and powerful build, often standing at 16 to 17 hands tall. Equally capable in dressage or as a jumper, the Oldenburg has a robust following due to its versatility. Their cooperative nature, combined with a robust physique, makes these horses an excellent choice for several equestrian disciplines. As a result, the sales market for Oldenburg horses remains stable and promising.
Holsteiner: Excellence In Jumping
Holsteiners, originating from the Schleswig-Holstein region, are famous for their exceptional jumping ability and easy-flowing movements. This is thanks in part to the breed's unique combination of power, speed, and coordination. With a prestigious legacy that dates back to medieval times, Holsteiners are one of the oldest warmblood breeds. They have a medium-sized frame, short back, and strong hindquarters, perfect for explosive jumping power. Coupled with their brave and willing temperaments, Holsteiners are top-tier contenders in show jumping and eventing scenes worldwide. Thus, their demand in the sales market is consistent, reflecting their place as one of the leading German warmblood breeds.
When looking to buy a German Warmblood horse, there are several important factors to consider. Your personalized needs, the specific events you wish to participate in, and your set budget each play a significant role in making the best decision. By familiarizing yourself with the various breeds of German Warmblood and understanding their unique qualities, you empower yourself to make a well-informed choice.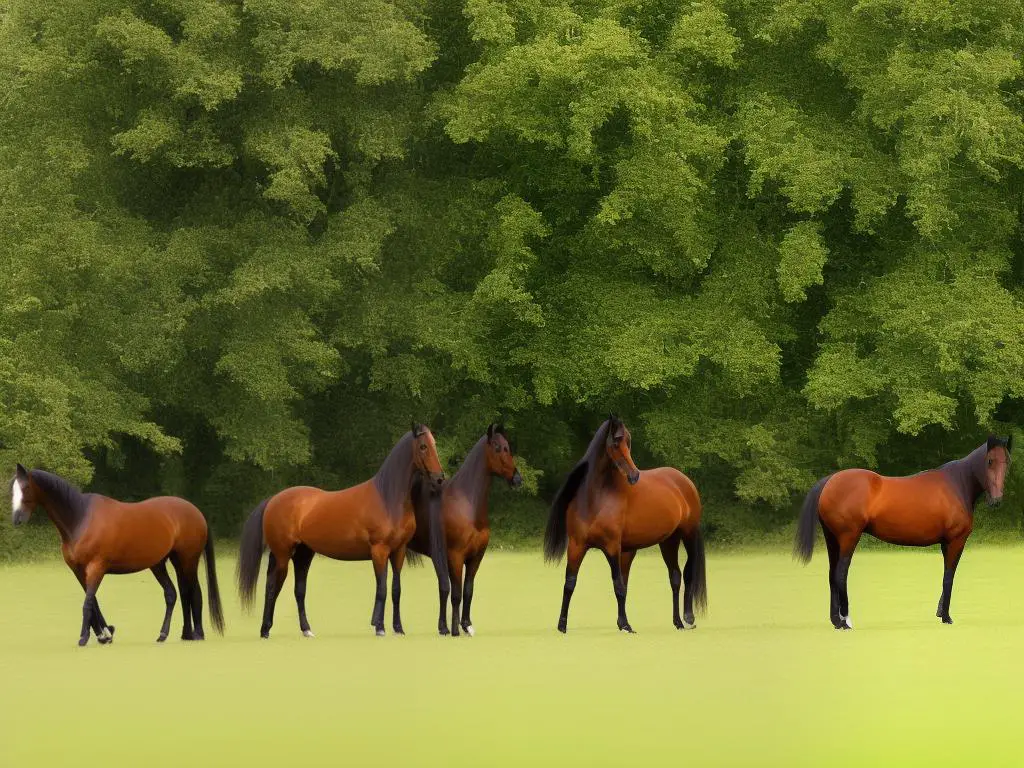 Health and Care
Caring for the health of German Warmbloods
It's essential to appreciate that the health and liveliness of German Warmblood horses necessitate sustainable health management and consistent care. Famous for their robust strength, broad versatility, and admirable temperaments, German Warmbloods are common picks for competitive equestrian sports like dressage, jumping, and eventing. Even so, owning such a horse comes with responsibilities that require comprehensive upkeep to assure their long lives and maintain their high-level performance in their respective sporting endeavors.
Common Health Concerns in German Warmbloods
German Warmbloods, like other horse breeds, are prone to certain health concerns. Two key health issues that these horses may encounter are Degenerative Suspensory Ligament Desmitis (DSLD), a progressive condition that affects a horse's ligaments, and Equine Metabolic Syndrome (EMS), a metabolic disorder that can lead to obesity and laminitis.
DSLD can compromise the horse's ability to perform and even its quality of life, as it affects the suspensory ligaments responsible for supporting the horse's weight between the cannon bone and the pastern. EMS, on the other hand, can be prevented or managed with an appropriate diet and exercise regimen, designed to avoid obesity and reduce the risk of laminitis, an inflammation in the tissues within the horse's hooves.
Mitigating Health Risks: What New Owners Can Do
New owners of German Warmblood horses have a significant role to play in mitigating these, and other, health risks. Providing a well-balanced diet based on the horse's age, weight and activity level, ensuring regular exercise, and implementing a preventative health program, which includes vaccinations, parasite control and dental care, are essential steps.
Moreover, owners need to pay particular attention to their horse's hooves. Regular hoof care, including frequent trimming and shoeing, can prevent several potentially disabling hoof issues. Implementing a regular, scheduled hoof care program with a reputable farrier is a necessity.
Importance of Regular Vet Check-ups
Similar to humans, regular check-ups from veterinarians are critical to ensure the horse's well-being. Routine vet visits not only keep the horse vaccinated and dewormed but also allow for early detection and treatment of potential health issues.
When it comes to German Warmblood sales, potential buyers should always ask for detailed health records that show the horse has received regular vet care. Purchasing a horse without this information is a risk, as hidden health issues could impact the horse's performance and result in expensive vet bills down the line.
German Warmbloods are majestic creatures that represent a significant investment, both financially and in terms of time and care. A thorough understanding of their common health concerns, as well as a commitment to regular veterinarian check-ups, play an essential role in maintaining their health and well-being. Anyone considering acquiring these beautiful animals must be prepared for this level of commitment.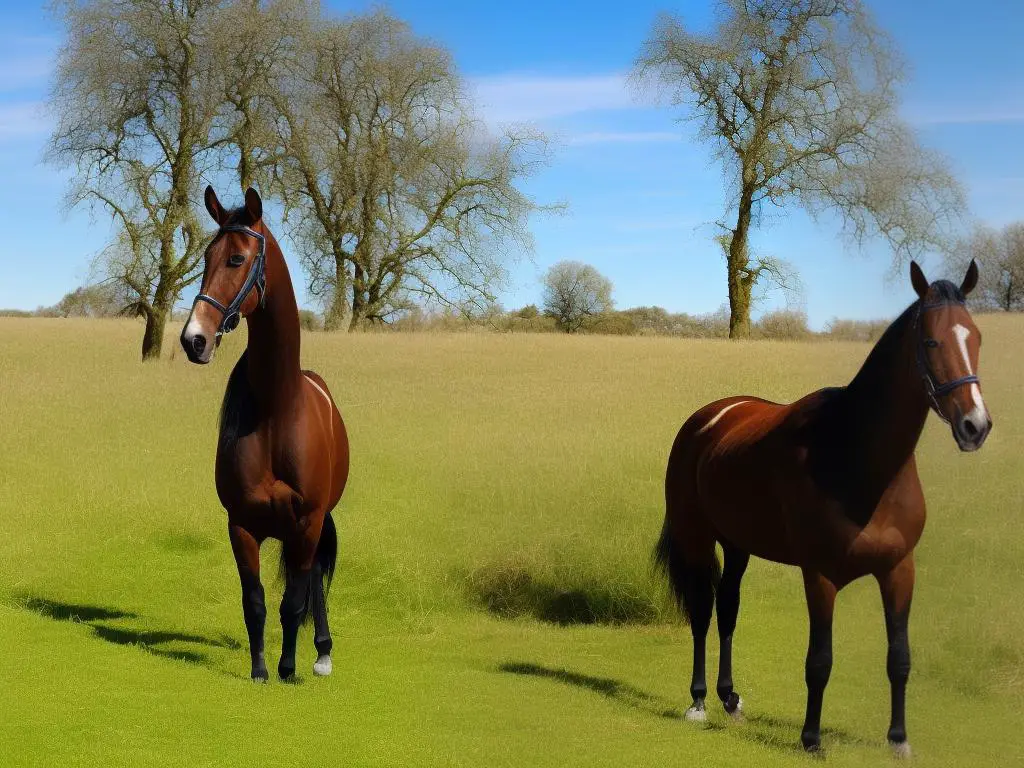 Pricing and Buying Process
Pricing Considerations for German Warmbloods: Beyond Breed and Age
The cost of a German Warmblood is affected by numerous factors that extend beyond its breed and age. The horse's level of training and experience, health, temperament, and abilities can all impact its price. Each of these attributes plays a critical role in determining the horse's value on the market.
For example, a horse that has been trained for high-level dressage or show-jumping will typically be more expensive than a comparable horse with basic training. Conversely, a horse with health issues, especially those that could hinder their training or career, will likely attract fewer buyers and, therefore, be priced lower.
A horse's breed can also influence its selling price. Some warmblood breeds, such as the Hanoverian, Oldenburg, or Westphalian, often command higher prices due to their historic success in competitive equestrian sports.
Buying a German Warmblood: A Step-by-Step Guide
The process of buying a German Warmblood can be complex, particularly for first-time buyers. However, understanding the process can help ensure you're purchasing a quality horse at a reasonable price.
Step 1: Research
Start by researching different breeds and decide which suits your riding goals. Learn about its disposition, care requirements, and common health issues.
Step 2: Seek Expert Advice
If possible, seek advice from trainers or other equestrian professionals. They can provide invaluable insights into the breed's character, recommend reputable breeders, and help you avoid common pitfalls.
Step 3: View Horses and Ask Questions
Avoid buying a horse sight-unseen. Visit the breeder or agent in person to see the horse in action and ask questions. This includes inquiries about the horse's history, training, health, and pedigree.
Step 4: Pre-Purchase Inspection
A pre-purchase examination by an equine veterinarian is an essential step in the process. This examination can reveal any underlying health and soundness issues.
Step 5: Negotiation
The prices of German Warmbloods are typically negotiable. Use information you gathered through research and inspections to negotiate a fair price. If you're not comfortable negotiating, consider hiring an agent or dealing through a trusted trainer.
Where to Buy a German Warmblood
There are numerous places to buy these breeds including horse auctions, breeders in Europe, or through designated equine sale websites. Take note to always perform due diligence and consider the horse's health, temperaments, and training before finalizing the purchase to ensure a match that fits your needs and goals.
In Conclusion
To navigate the intricacies of German Warmblood sales, a comprehensive understanding of their pricing and purchasing process is crucial. A smoother purchase experience is achievable by diligently considering factors such as the horse's breed, age, health, and level of training. This due diligence will allow you to make a more informed decision.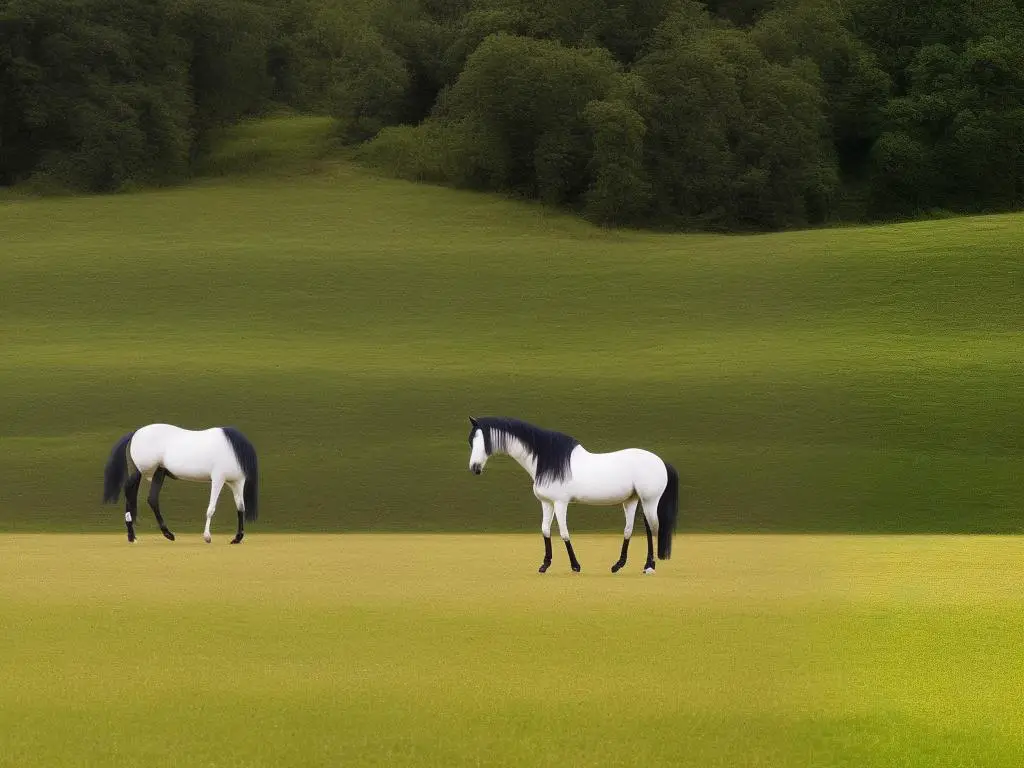 Training and Riding German Warmbloods
Get to Know Your German Warmbloods: Performing Partners Par Excellence
German Warmbloods, including renowned breeds like Hanoverians, Holsteiners, and Oldenburgers, boast a rich heritage tracing back to the Middle Ages. They are celebrated for their exceptional performances in equestrian sports like dressage, show jumping, and eventing. Thanks to their hearty build, energetic disposition, and notable versatility, these breeds are naturally athletic, which greatly eases their training process.
Trainable Traits inherent to German Warmbloods
German Warmbloods have always been cherished for their obedient nature and keen learning abilities. They're known for their intelligent and gentle temperament, making them approachable and trainable. Their lofty, fluid gaits are a testament to their athletic prowess, and their inherent strength aids in relatively effortless carriage of a rider.
The combination of their calm disposition, strength, and agility make them ideal creatures for extensive training and high-level performance. It's crucial to understand that while these traits make them extremely trainable, it also demands thoughtful, consistent and skillful interaction from the handlers and riders.
Common Training Techniques for German Warmbloods
Training of these breeds often involves a combination of lungeing, groundwork, dressage, and jumping exercises. Flexibility and suppleness are key in their conditioning, and trainers often incorporate pole work, lateral movements, and transitions to achieve this.
Balance, rhythm, and straightness are also critical aspects that trainers focus on, as these form the foundation for successful performance in dressage and jumping. Early and consistent exposure to a variety of scenarios and environments furthermore aids in developing a confident and adaptable horse.
Riding Styles Suited for German Warmblood Breeds
German Warmbloods excel under various riding styles, including dressage, show jumping, and eventing, thanks to their strength, endurance, and mental acuity. An average mature Warmblood has the capacity to carry an adult rider comfortably, making them suitable for recreational riding as well.
Participation in high-stakes competitions often demands advanced skills from the riders, including a deep understanding of the horse's responses, strength to guide and control, and patience to understand and work with the horse's unique personality.
The German Warmblood: A Horse for Experienced Equestrians
Given their powerful athletic abilities and sensitive nature, German Warmbloods typically require an experienced and confident rider. A first-time horse owner might find mastering their controls challenging and may not fully utilize their potential in performance activities. Therefore, these horses are often sought by seasoned equestrians and professionals.
In sum, buying a German Warmblood is a significant commitment, both financially and in terms of the time and expertise required for the horse's training and care. Potential buyers must understand and appreciate the responsibility that comes with owning such a magnificent and talented creature. With careful selection, decent training, and thoughtful handling, German Warmbloods can indeed become unparalleled partners, taking their riders to the pinnacle of equestrian success.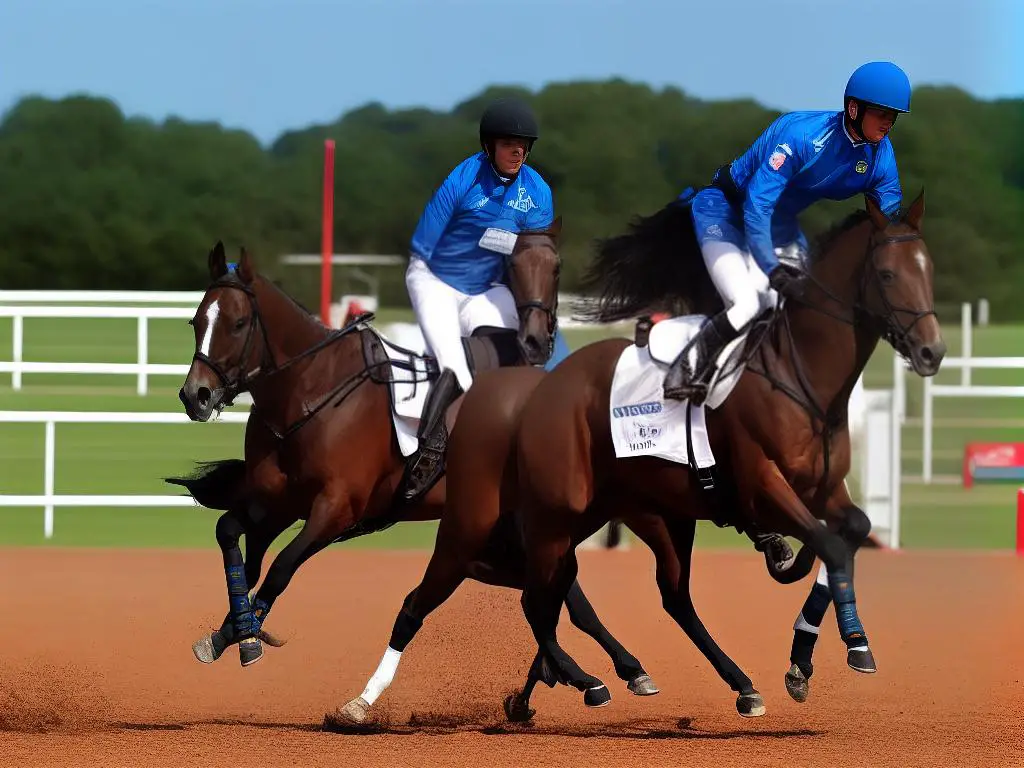 Choosing and purchasing a German Warmblood is an engaging journey that involves understanding different breeds, knowing about their healthcare, and detecting the right buying process. These extraordinary horse breeds are worth the investment due to their unique abilities and outstanding temperament, whether for competitive sports or sheer pleasure of riding. The information about their training and riding can give you a clearer sense of what your experience might be like post-purchase, helping to fulfill your equestrian dreams. Remember, a significant part of owning a horse is about care and dedication, which ultimately leads to a rewarding companionship with these majestic creatures.