Are you interested in knowing about the most popular pony breeds and how they compare to one another?
Then look no further as this article has all the information you need.
Among all pony breeds, the 5 most popular ones are Sable Island Pony, Basuto Pony, Balearic Pony, Turkish Pony, and Australian Pony.
These Canadian, African, Spanish, Turkish, and Australian Ponies have unique characteristics, are suitable for specific work, and have an exciting story about their origins.
Read on to find out what breed is best suited to your area of interest.
Table of Contents (Horspedia)
Sable Island Ponies Breed Overview
They are used in harnesses and as riding ponies.
Sable Island, an Atlantic sandbank off the coast of Nova Scotia, grows on trees and no rich pastures.
The two or three hundred ponies descended from 18th-century New England stock, which lives wild on the island.
Survive without shelter or windbreak throughout winters which are often severe.
Characteristics and Origin of Sable Island Ponies
Origin: Canada – Sable Island.
Height: About 14hh.
Colour: Usually chestnut (often dark), bay, brown, black, grey.
Character: Survival Instinct, and hardy.
Physique: Strong, wiry animals, usually scrub type but occasionally handsome. Extremely hardy.
Basuto Pony Breed Overview
It served extensively in the Boer War, has been used for racing and polo, and can carry a full-grown man for 60 to 80 miles a day.
This pony, not native to Basutoland, derives from Arabs and Barbs imported by the Dutch East India Company in 1653 and from Arabs, Barbs, Persians, and Thoroughbreds imported until early in the 19th century.
This early cross-breeding of quality horses happened not in Basutoland but in Cape Province.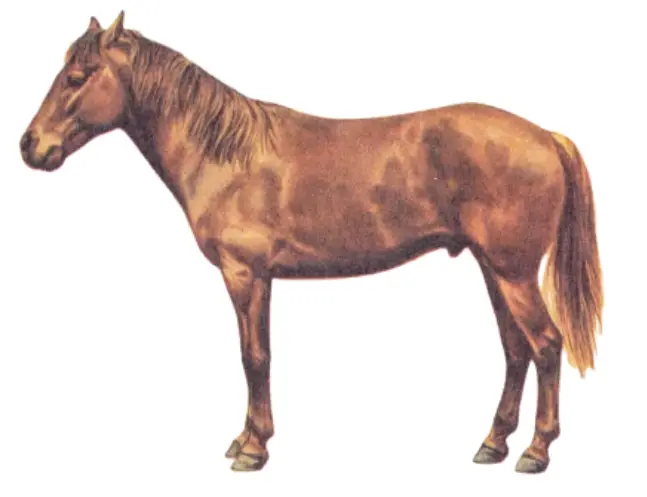 It resulted in the Cape Horse, which crossed into Basutoland around the 1830s through border raids and gradually deteriorated, through lack of interest and the demands of the hard, arid climate, into the Basuto pony.
An almost complete absence of cosseting in an inhospitable region has made the Basuto one of the toughest and bravest ponies in the world.
Characteristics and Origin of Basuto Pony
Origin: South Africa – Basutoland.
Height: About 14.2hh.
Colour: Chestnut, bay, brown, grey.
Character: Fearless and exceptionally self-reliant, and enduring.
Physique: Sometimes a quality head, intelligent eye; lean, longish neck, often "ewe", on strong shoulder tending to the upright. Back on the long side. Legs are short and hard. Feet exceptionally hard. Amazingly sure-footed.
Balearic Pony Breed Overview
They are commonly used for farm work and as a means of local transportation and riding.
This ancient Mediterranean breed, resembling the horses found on Greek coins, works with great docility on the small farms of Majorca and in harness for the Palma tradesmen.
It is a gently patient sort which will stand without restraint under the almond trees between the shafts of the typical wide-spanned, green-netted carts into which the almond crop is dropped.
Often it wears a sun hat, its ears poking out on either side of the crown as it stands, half-dozing, waiting for the signal to move to another tree. 
Characteristics and Origin Balearic Pony
Origin: Balearic Islands – Majorca.
Height: About 14hh.
Colour: Bay, brown.
Character: Hardworking and Willing.
Physique: Fine head, often Roman-nosed, on short, arched neck. Upright mane. Body lean, and legs hard though the light of bone. Hard feet. Action free and graceful.
Native Turkish Pony Breed 
Native ponies are widely used in Turkey for all kinds of farm work, such as pack ponies, harnesses, and riding.
These ponies are bred to withstand or survive in harsh conditions.
They are tough, enduring animals of no special distinction except for their readiness to do any job they are asked.
Characteristics and Origin Balearic Pony 
Origin: Turkey – Sivas.
Height: 14-14.2hh.
Colour: Bay, brown, grey. 
Character: Willing, and extremely enduring and hardy.
Physique: Plain head with long ears on a short, thick neck, body short and robust. Legs strong with good bone, of medium length, and hard feet.
Australian Pony Breed Overview
They are mainly used for Mounted games and as a Show pony or Eventing pony.
Almost unknown outside its continent, the Australian pony is an elegant little animal stemming mainly from imported Welsh Mountain and Arab stock with infusions of Timor, Shetland, Exmoor and Thoroughbred blood.
Australian ponies have a good, sloping shoulder, short back with a deep girth and well-sprung ribs. Rounded hindquarters with tail well set on and gaily carried. Short, clean legs and hard feet. Action free, straight and smooth.
Characteristics and Origin of Australian Pony
Origin: Australia.
Height: 12-14hh.
Colour: Usually Grey.
Character: Intelligent, game and enduring.
Physique: Arab head with intelligent eye and small, pricked ears, carried proudly on a longish neck.