The majestic Shire horse, with its striking size and muscular build, presents a fascinating subject for comparison with humans. Known for their notable physical traits including tall stature, hefty weight, and features like feathered hooves, these gentle giants of the equine world command awe and intrigue.
Delving into their rich history further enhances the understanding of how their size has significantly influenced their roles and tasks over the centuries. From being revered as fearsome war horses to proving their mettle in agriculture and heavy load pulling, their size has been a defining factor.
Furthermore, comparing the size of Shire horses to humans provides an eye-opening perspective on the immense size disparity. Notably, examining the health implications of their size sheds light on the challenges and considerations in caring for these magnificent beasts, revealing an entirely new aspect of their lives not commonly known to the general public.
Table of Contents (Horspedia)
Shire Horse Physical Traits
Shire Horse Size: Towering Titans of the Equine World
Shire horses are known for their remarkable size, distinguishing them from many other horse breeds. The average height of a Shire horse ranges from 17 to 19 hands (68-76 inches) at the withers, the point on a horse's back just above the shoulder blades. This means that even the shortest Shire horse can stand at a height roughly equivalent to the average adult male human height in the United States, which the Centers for Disease Control and Prevention reports is approximately 69 inches. However, many Shire horses surpass this height quite easily, with the largest recorded standing at a staggering 21.2 hands, or about 86 inches.
An Overview of the Shire Horse vs Human Size
Renowned as the 'Gentle Giants' of the equine world, the shire horses tower over humans not just in terms of their formidable height, but their substantial weight as well. Typically, a Shire horse weighs somewhere in the range of 1,800 to 2,400 pounds, but it isn't unheard of for some to exceed a whopping 3,000 pounds. To put things into perspective, this is roughly ten to fifteen times the weight of an average adult in the United States. Their hefty weight is aptly complemented by a robust, muscular frame, a testament to their historical use as draft horses capable of pulling enormous loads. Another distinct feature of these horses is their feathering—long, flowing hair around the hooves—which further enhances their powerful and awe-inspiring appearance. Nonetheless, their imposing size doesn't diminish their nature, as they are known for their gentle, calm, and docile temperament.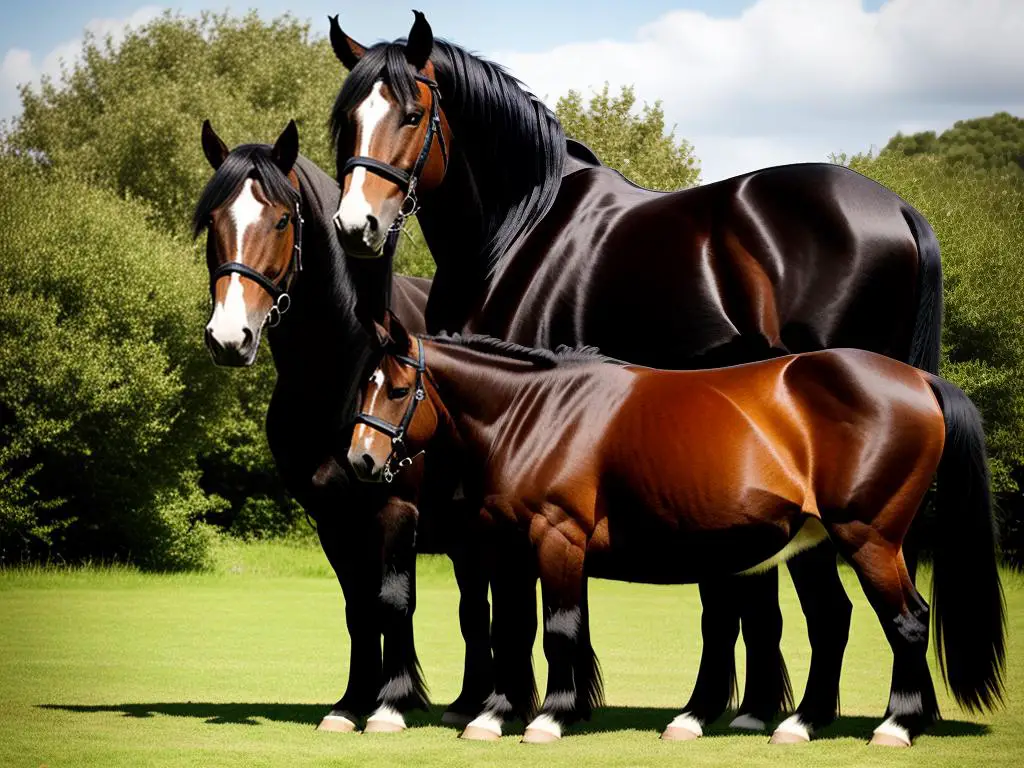 Historical Uses Based on Shire Horse Size
The Historical Presence and Role of the Shire Horse
Shire horses have left their hoofprints in human history due to their colossal size and strength. In comparison to humans, their stature is nothing short of impressive—they typically stand tall at 16 to 19 hands (64 to 76 inches) at the shoulder and carry an impressive weight of up to 2,400 pounds.
The unique combination of their immense size and extraordinary strength played a pivotal role in their usage in historical contexts. Back in the Middle Ages, knights riding into the battlefields in their weighty chainmail and plate armor needed a steed that was powerful enough to carry them, yet agile enough to navigate the melee of the battlefield. Shire horses, with their unrivaled strength and size, were the perfect candidates for this role.
The Shire Horse's Role in Agriculture and Industry
In response to the changing requirements of warfare, and the diminished requirement for armored knights, Shire horses were repurposed into roles within agriculture and industry. The significant industrial changes of the 18th and 19th centuries saw a heavy dependence on these robust horses for the hauling of weighty loads. Due to their extraordinary size, Shire horses were able to efficiently pull farming equipment, proving crucial in field plowing, transporting goods to markets, and operating machinery in early factories.
The combination of enormous strength and a generally calm, hardworking disposition made these horses irreplaceable for both farmers and industrial laborers. Even with the introduction of mechanized farming and industrial equipment, the Shire horse continues to be a cherished emblem of an era when the strength and elegance of these large horses were relied upon by human societies.
Shire Horse vs Human Size Comparison
Height Comparison of Humans and Shire Horses
With their title as one of the largest horse breeds globally, Shire horses significantly overshadow the size of an average human. A fully grown male Shire horse typically stands between 17 and 18 hands high, with one hand equating to four inches. This measurement means they stand approximately 68 to 72 inches at their shoulder – roughly equivalent to 5.67 to 6 feet tall. However, this measurement only accounts for their height up to the shoulder. With their heads held high, Shire horses can easily extend to a staggering height of up to 8 feet.
A Closer Look at the Weight: Shire Horses Versus Humans
When comparing the weights of Shire horses and humans, the size disparity becomes distinctly apparent. Adult Shire horses can tip the scale anywhere from 1,800 to 2,400 pounds– a weight on par with a small car. Bred as working horses, their mighty bodies are designed to carry and pull large loads, handling tasks that demand immense strength.
In contrast, the average weight for an adult human male is around 197.9 pounds, and for a female, it's roughly 170.6 pounds. This considerable difference showcases the imposing stature and weight of the Shire horse breed when juxtaposed with humans.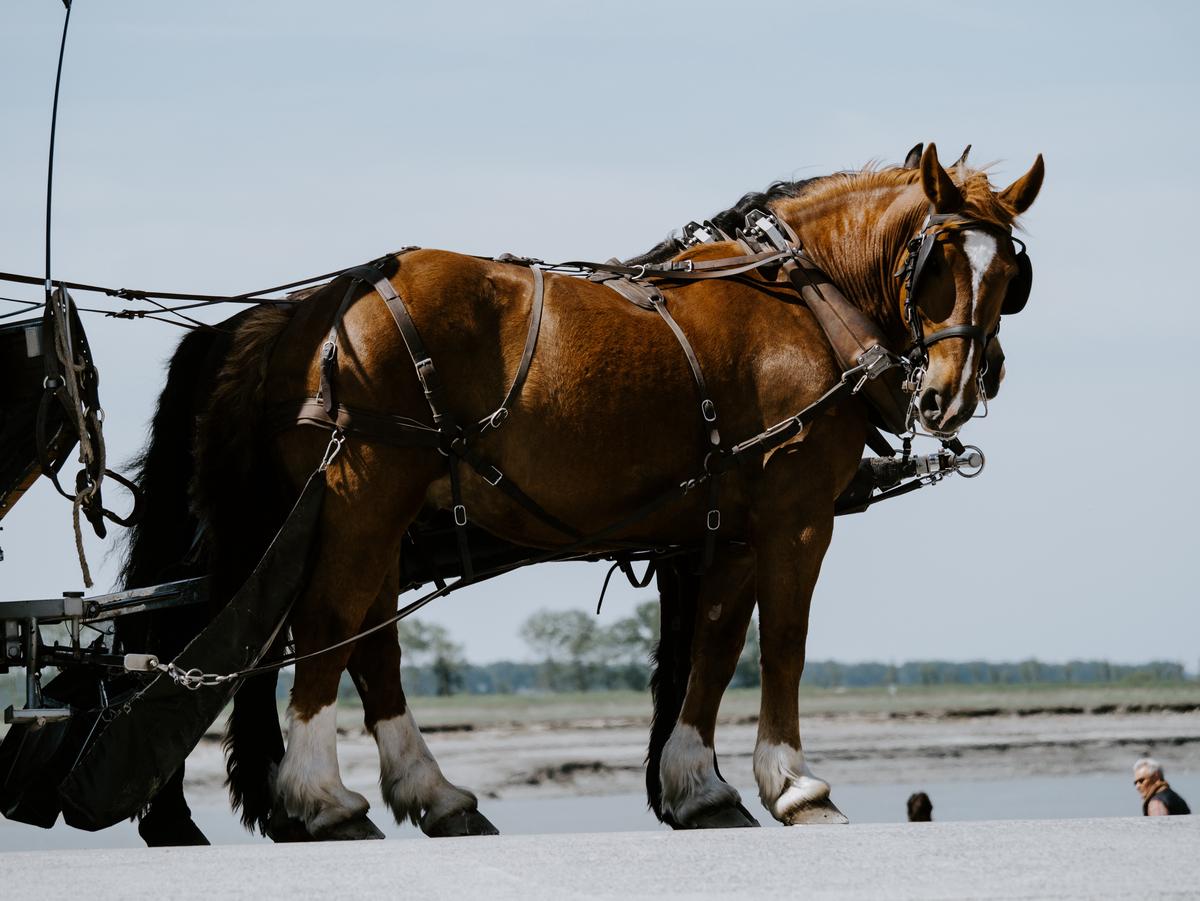 Photo by mattseymour on Unsplash
Health Implications of Shire Horse Size
Comparative Study: Size of Shire Horses and Humans
Visually comparing size measurements of Shire horses and humans help paint a more detailed picture. An adult male Shire horse stands around 17 to 19 hands (68 to 76 inches) tall at its shoulder and weighs between 1,800 to 2,200 pounds. In relation to this, the average height of a human male is about 5.9 feet (70.8 inches), corresponding to roughly 17.75 hands. Also, the average American man weighs approximately 197.9 pounds – a significant contrast to a Shire horse's weight. These figures underline the sharp size and weight disparity between Shire horses and humans, further affecting aspects of their respective health and maintenance needs.
Health Implications of Shire Horse Size and Weight
The considerable size and weight of Shire horses necessitate specialized veterinary care and facilities, distinct from what a smaller pet or a human would require. For example, any surgical procedures or medical interventions for a Shire horse would demand equipment designed to accommodate their size and body structure. The same applies to their accommodation – larger stable facilities are needed compared to other horse breeds, as is a proper feeding schedule to maintain their well-being. A Shire horse consumes more food and water than a regular-sized horse, let alone a human, as it needs to support its extensive body mass and functions.
Furthermore, as with any large species, Shire horses are susceptible to specific health issues related to their size. This includes leg and foot condition related to carrying significant weight, along with heightened risk of gastro-intestinal problems due to their large digestive system. Their size also makes them prone to particular respiratory issues. Understanding these unique size- and weight-related health concerns is vital to ensuring good care and longevity for these gentle giants. These health implications of Shire horse size must be carefully managed, highlighting the need for skilled veterinarians, caregivers, and caretakers who are specifically trained to provide optimum care for larger breeds like the Shire Horse.
There can be little doubt that the sheer size of a Shire horse is both fascinating and daunting when compared to that of humans, highlighting not only their physical grandeur but also the unique needs and challenges they face because of it.
Understanding their historic roles, owing to their extraordinary size, not only broadens our knowledge about this equine breed but also deepens our appreciation for their contribution to human civilization. By exploring the health implications related to their monumental dimensions, we gain insight into the specialized care these equine giants require.
This exploration and comparison reinforce the notion that the awe-inspiring Shire horse is more than a quintessential gentle giant; it is a testament to the breath-taking variety and fascinating complexities present in the animal kingdom.