German horse racing, a dynamic and prestigious sport, has carved a distinctive niche in the world of international horseracing over the centuries. Steeped in tradition, but with a keen eye toward the future, this fascinating realm encompasses a rich history, a unique structure, renowned personalities of horses and jockeys, and an intriguing current state mollified by technological advancements and recent world events. This rich tapestry of past and present offers an exciting exploration into the heart of Germany's equestrian legacy, a testament to the country's passion for this thrilling sport.
Table of Contents (Horspedia)
History and Evolution of German Horse Racing
Origins of German Horse Racing
Horse racing has a storied history in Germany that traces back to the late 1820s. One of the most important milestones in the inception of horse racing in Germany was the establishment of Bad Doberan Racecourse in 1822. Considered the oldest racecourse in mainland Europe, Bad Doberan in Mecklenburg became the catalyst for the horse racing industry in Germany.
Influential Figures in German Horse Racing
As the centuries moved on, German horse racing saw the rise of several influential figures who moulded the industry. One such person was Baron von Oettingen, who played a significant role in initiating organised betting. His system, introduced in 1898, created a sense of fairness and standardisation that helped organise the sport and make it widely acceptable.
Germany's Golden Era of Horse Racing
Germany's "Golden Era" of horse racing, which took place from the late 19th to the early 20th century, marked a significant period of evolution. The country produced some of the world's top racehorses during this period. German-bred horses like Oleander, Alchimist, and Nordlicht garnered international acclaim, with Nordlicht being recognized as one of the greatest racehorses of the 20th century.
Post-World War II Developments
Following the devastation of World War II, German horse racing went through a period of stagnation and decline. However, the Federal Republic of Germany (West Germany) revived the industry in the 1950s. Oppenheim Pramerica's investment and breeding initiatives played a pivotal role in regaining the stature of German horse racing in the international arena.
Changes in Rules and Practices Over Time
The rules and practices of German horse racing have changed significantly over time. For instance, in 1970, the German Jockey Club introduced a new rating system for determining the quality of racehorses.
Modern technology has also played a crucial role in the evolution of German horse racing. The use of electronic systems for betting and the telecasting of races have made the sport more accessible to the masses.
To complement this, efforts have been made to promote transparency and fair play in recent years. As will any sport, strict disciplinary rules have been formulated and implemented to keep the players in check and prevent fraudulent activities.
Overview of German Horse Racing
Presently, horse racing in Germany is a flourishing industry housing around 40 racetracks spread throughout the country. The pride of this industry is the prestigious German Derby held at the Hamburg's Horn Racecourse, which draws in top-tier thoroughbreds from Germany and internationally. The country's horse breeding sector remains productive, consistently producing high-grade horses that have not only dominated local races but have made waves on the international level as well. Remarkable examples include the German-bred horse, Danedream who claimed victory at the Prix de l'Arc de Triomphe in 2011, and Sea The Moon who has also achieved significant success as a leading sire. These achievements affirm the continuous global influence of Germany's horse racing industry.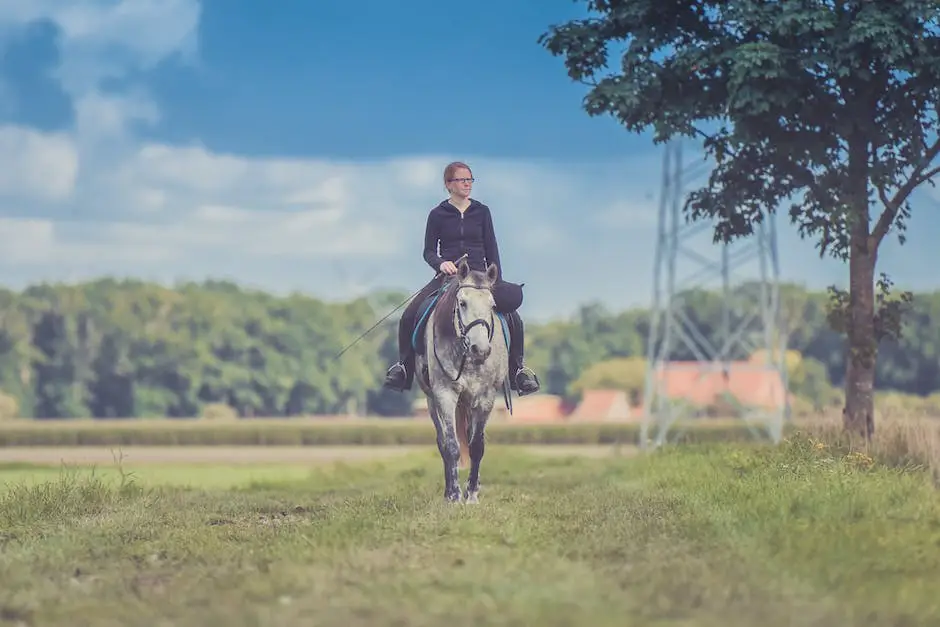 Structure of German Horse Racing
Administrative Bodies and Regulatory Systems
The management and regulation of the German horse racing industry lie largely in the hands of the Direktorium für Vollblutzucht und Rennen. This principal body is tasked with the responsibility of creating regulations, presiding over horse racing events, and ensuring fair play in all competitions. In line with this, unpaid stewards are stationed at various points across the country to help maintain the integrity and fairness of the races. Also, the Rennleitung, otherwise known as the race committee, ensures that all rules and regulations related to horse racing are strictly adhered to in each event
Importance of Betting in German Horse Racing
Betting plays a crucial role in German Horse racing, providing the main source of revenue, primarily through a pari-mutuel betting system. This system allows for all money to be gathered in a pool, the odds calculating by sharing the pool among all winning bets. It's state-run by the German Tote, and its proceeds are used to fund the racing industry, improve racing facilities, train racehorses, and in giving prizes, ensuring the survival and growth of horse racing in Germany.
Classifications and Types of Races
German horse races are classified from Group I to Group III, and listed races. Group I races are considered the top-tier events, featuring the best horses and offering the highest prizes. These include prestigious races such as the Deutsches Derby, Preis der Diana, and Grosser Preis von Baden. Group II and III races involve lesser-known, often younger, horses as they begin their racing career.
Horse races in Germany mainly fall into two types – flat racing and steeplechase. Flat racing, as the name suggests, is conducted on a flat, level track where speed is the determining factor. Steeplechase, or jumps racing, involves obstacles that the horses must overcome, testing their agility and endurance.
Key Racecourses in Germany
Germany is home to numerous diverse racecourses each featuring unique attributes. The oldest and most esteemed among them is the Hamburg-Horn Racecourse, where the renowned Deutsches Derby is held. Furthermore, there is Hoppegarten in Berlin, which is recognized for its historic grandstand as well as for its role as a venue for international group and listed races. The Iffezheim in Baden-Baden is popular for hosting the Grosser Preis Von Baden, one of Europe's leading horse racing events. The frequently visited Cologne-Weidenpesch Racecourse is celebrated for its acclaimed races such as Preis der Diana and Gerling Preis. Lastly, Dortmund-Wambel holds a distinctive status for being home to Germany's only all-weather track, ensuring horse racing activities year-round. These racecourses signify the robust foundation of Germany's equestrian racing industry.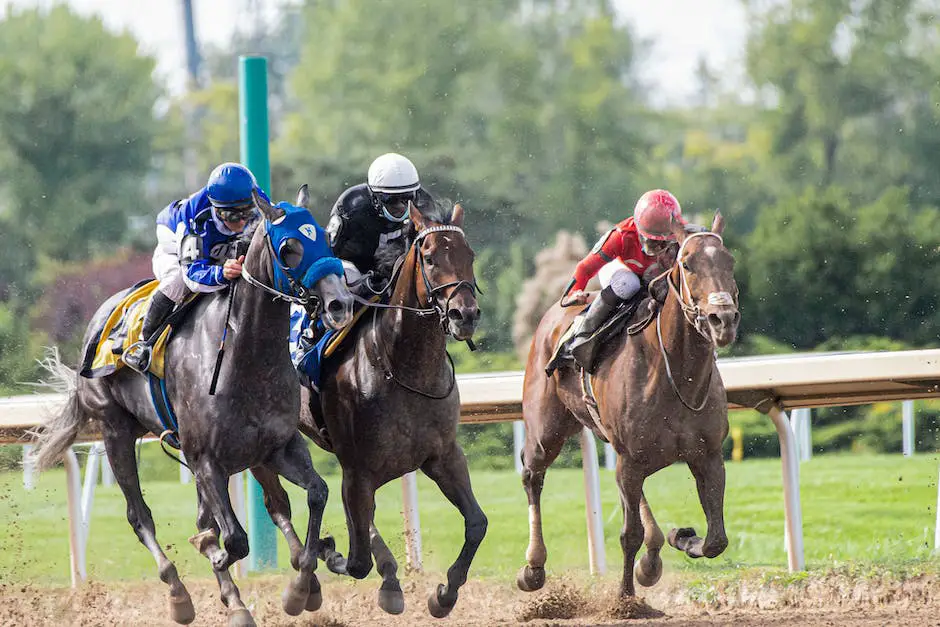 Famous Horses and Jockeys
An Insight into German Horse Racing
Also known as 'Galopprennen', German horse racing possesses a rich history rooted back in 1834, punctuated by noteworthy horses, races, and jockeys. A distinctive trait of horse racing in Germany, unlike in other nations, is its lesser emphasis on betting; rather, the sport is centered around producing and nurturing some of the world's top-rated race horses.
Notable German Race Horses
Undoubtedly, one of the most famous German horses, Sea The Moon, is renowned worldwide. With trainer Markus Klug, Sea The Moon dominated the field in the coveted Derby title in 2014, winning by an impressive 11 lengths. Sea The Moon's career was, however, cut short due to a leg injury, yet, he's made quite an impact in his short career, and he continues to contribute to the sport as a sire.
Monsun was another German-bred horse whose legacy spans continents. Renowned for his stamina and determination, Monsun was a great success in the 1990s and established German-bred horses as a force in long distance races.
Danedream, a mare, achieved international recognition and acclaim after winning the prestigious L'Arc de Triomphe race, one of Europe's standout racing events, in 2011.
Famous German Jockeys
German jockeys, while fewer in number than their horses, have made their mark on the sport. Andrasch Starke is a German jockey who became famous worldwide thanks to his partnership with Danedream. His strategic riding and an instinct for picking the ideal racing line are just some of the skills that have made him renowned.
Another prominent German jockey in the modern era is Peter Schiergen. Having won multiple German Derbys throughout his career, Schiergen transitioned from jockey to trainer and continued his winning ways. His winning horse, Sea The Moon, was under his expert guidance.
Key German Races
The German horse racing calendar is marked by several internationally recognized races. At the top of the list is the Deutsches Derby, a Group 1 flat race for three-year-old thoroughbred colts and fillies. This prestigious race has been held in Hamburg since 1869.
The Preis der Diana is another significant race in Germany, specifically for three-year-old fillies. Both races have served as pivotal platforms for several German riders and horses to showcases their abilities, going on to achieve international recognition.
Germany's Historic Impact on Horse Racing
Germany is historically significant in the world of horse racing, leaving an indelible mark through its superior breeding and training programs. Great runners like Sea The Moon, Monsun, and Danedream all originate from Germany, reflecting the country's passion for equestrian sport. Similarly, exceptional jockeys such as Andrasch Starke and Peter Schiergen have mirrored the competitive and respected caliber demanded by this notable sport.
Some of the most noteworthy German horse racing events include the Deutsches Derby and Preis der Diana. These events serve to draw international participants and spectators, highlighting Germany's crucial role in the international horse racing calendar.
To summarize, Germany's historical focus on the breeding and development of top-tier horses, combined with the determination and proficiency of its jockeys, has cemented its esteemed position in the global horse racing circuit.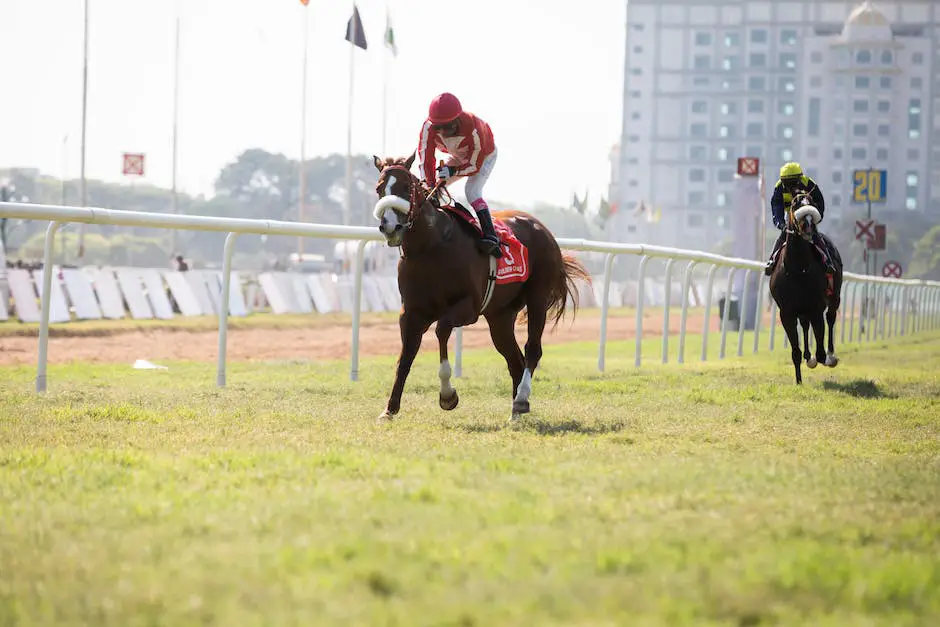 Current State of German Horse Racing
The Current State of German Horse Racing
Today, horse racing in Germany is seen as a blend of revered traditions and modern tendencies. Prestigious races like the Preis der Diana, Deutsches Derby, and Grosser Preis von Baden are annual reminders of the nation's deep-rooted equestrian background. The stature and substantial awards associated with these races invite ample attention from racing enthusiasts and professionals worldwide.
The national body overseeing these activities, Direktorium für Vollblutzucht und Rennen, coordinates all horse races across Germany. The racing events are usually held on weekends and public holidays at various locations countrywide. Such diversity serves to ward off predictability and keeps the racing environment exciting. It includes the integration of night events as a refreshing addition to traditional daytime races.
Significant figures in German Horse Race
Numerous personalities have defined the modern era of German horse racing. Among these figures, trainers Peter Schiergen and Andreas Wöhler have been notably successful on national and international stages. Jockeys such as Andrasch Starke and Eduardo Pedroza have consistently stayed top of the rankings, displaying outstanding skill.
Mandatory mention must be made of exceptional horses such as Sea The Moon, Protectionist, and Danedream, who not only have had domestic success but also international triumph, illustrating the high quality of German thoroughbreds.
Impact of technology and changing betting practices
Germany has embraced technology in horse racing by incorporating it in training, racing, and gambling. Advanced GPS systems, heart rate monitors, and drones have become an integral part of racing stables, intending to optimize the horse's performance. Simultaneously, infrared technology is used at tracks to enhance animal welfare by spotting signs of potential injury swiftly.
The online betting market in Germany has seen a transformative change with increasingly sophisticated digital platforms. The advent of mobile applications for online betting has also made it easier for the public to bet on horses, contributing to an overall increase in revenue from betting.
Influence of the COVID-19 Pandemic
The COVID-19 pandemic has profoundly affected German horse racing, much like the rest of the world. There was a general suspension of racing during the early stages of the pandemic, which led to significant income loss across the industry. Although racing resumed later, it was mostly without spectators and with stringent social distancing rules.
On the positive side, the pandemic accelerated the use of technology within German horse racing. Online betting experienced a surge fueled by the absence of spectators at the tracks. Simultaneously, racing events capitalized on digital platforms to live stream races and maintain engagement with fans.
In conclusion, German horse racing currently finds itself balancing tradition with technological progression. Industry leaders continually seek new ways to modernize the sport, increase its appeal, and maintain its position in the country's cultural and sporting fabric.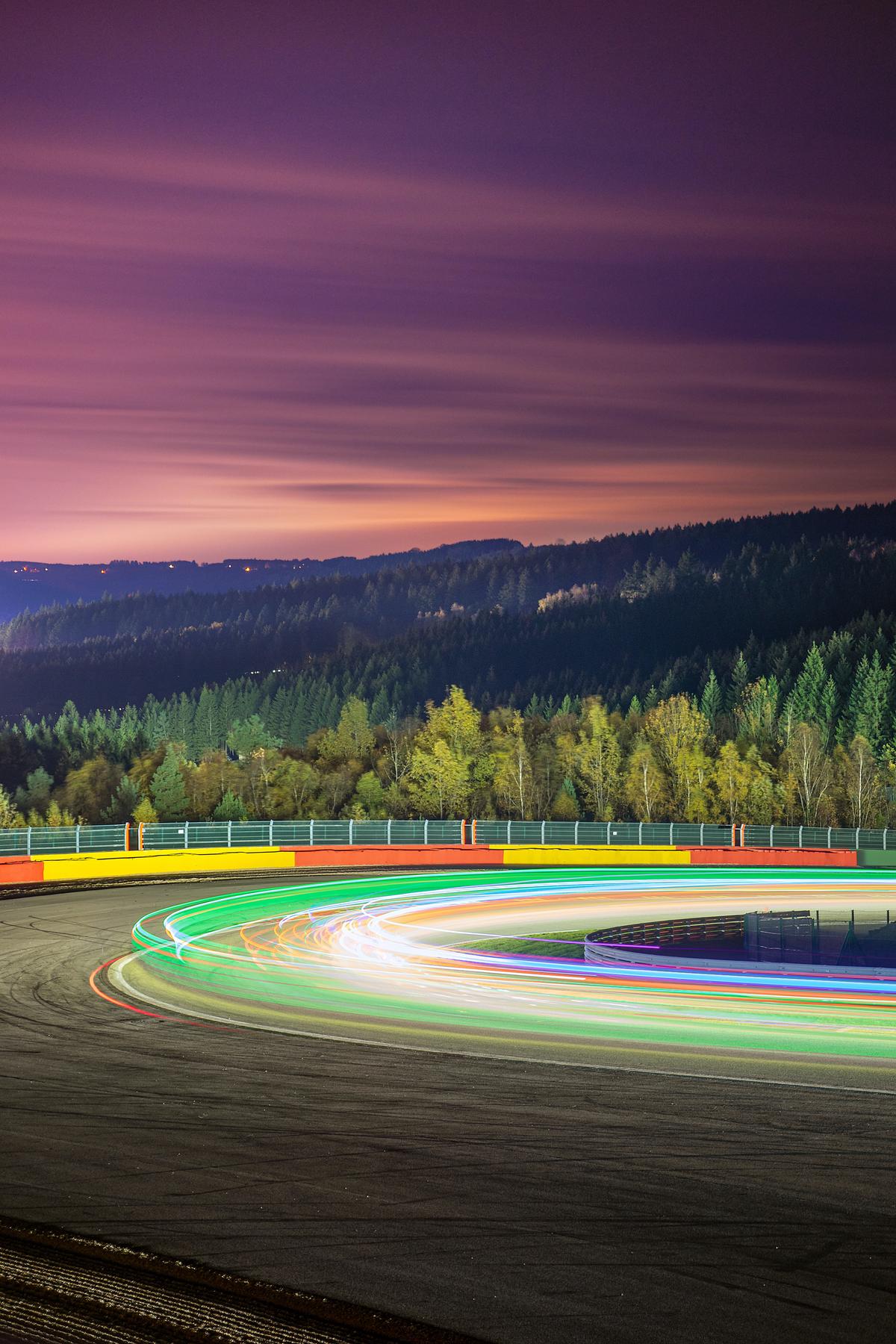 Photo by felixberger on Unsplash
The vibrant world of German horse racing reveals a fascinating story of heritage, evolution, and innovation. Its past echoes in the hoof beats of renowned horses and the accomplishments of celebrated jockeys, with its present mirroring the vigor of a thriving sport tempered by evolving norms and pressing global circumstances. Indeed, German horse racing is not merely a sport—it's a living, breathing narrative of change and resilience, a testament to the enduring appeal of an age-old tradition still relevant and deeply cherished today.