If you're curious to learn about famous pony breeds, you've come to the right place!
There are hundreds of pony breeds across the globe, but the most popular ones are the Falabella, Landais, Garrano (Minho), Kathiawari and Marwari, Spiti, Bhutia, and Tibetan (Nanfan) ponies.
All these pony breeds have distinctive characteristics and are typically found in specific parts of the world (Argentina, France, Portugal, India, and Tibet).
Read on to know more about these popular pony breeds and their unique personality traits.
Table of Contents (Horspedia)
Falabella Pony Breed Characteristics | Smallest Horse in the World
The Falabella is the smallest horse in the World. It takes its name from the Falabella family, who developed it on their Recreo de Roca Ranch near Buenos Aires.
The breed is descended from a small Thoroughbred owned by the family and has been inbred to the smallest Shetlands.
Though the Falabella is less than a century old, still no records of its early development exist, and, likely, we will never know its precise origins.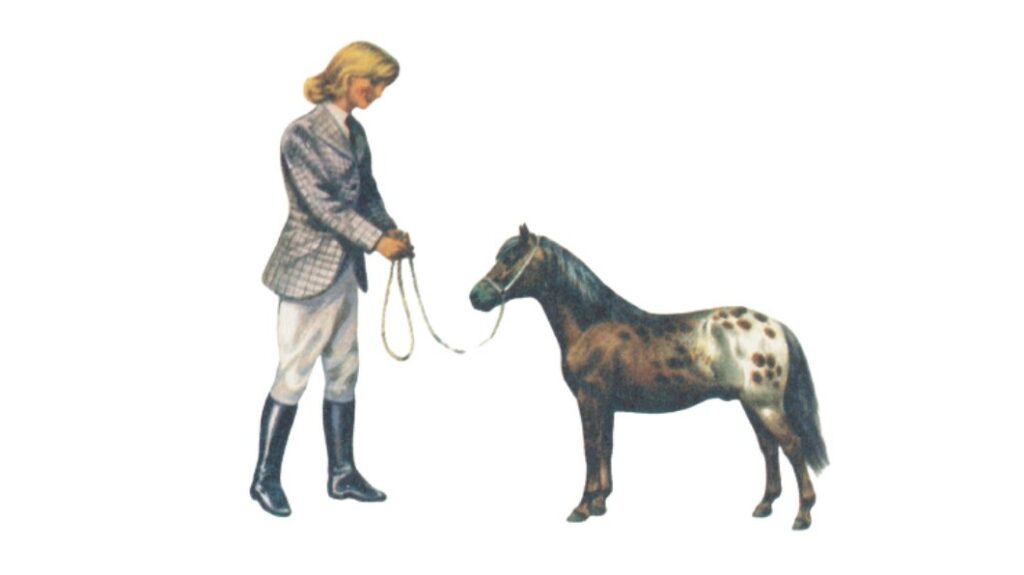 It is a hardy miniature horse, full of character, and is popular in North America as a harness pony and as a pet.
Extreme downgrading in size has caused it to lose much of its physical strength, and it cannot be regarded as a serious riding pony.
Any colour is acceptable in the breed, though modern breeders are tending to concentrate on Appaloosa markings.
Facts about Falabella Pony Breed
Origin: Argentina.
Height: Under 7hh.
Colour: All colours.
Character: Friendly and intelligent, ideal as a pet.
Physique: Mid-size ears, muscular, stout legs.
Landais Pony Breed | Characteristics
The Landais pony, or Pony Landais, is semi-wild and lives in the forests of the Landes.
It is closely related to the larger (because more richly-fed) pony of the plains of the Chalosse near the Adour river and to the Barthais pony, which lives in the marshes of this river.
Both these types are usually chestnut or black.
While on the subject of French ponies, mention should be made of the tiny Pottok, a native of the Basque region.
It is similar to the Shetland in appearance, though lighter in build, comes in many colours, including piebald and skewbald, and is completely wild.
Facts about Landes Pony Breed
Origin: France – Landes.
Height: About 12hh or a little less.
Colour: Gray.
Character: Intelligent, Generous and calm.
Physique: Slight-framed and light of bone, small, expressive head, straight neck, sloping croup. Long mane and tail.
Garrano (Minho) Pony
The Garrano, also known as the Minho, is by far the commonest pony breed in Portugal. 
Bred in the rich mountain pastures of the provinces Garrano do Minho and Traz dos Montes, and sometimes carrying Arab blood in its pedigree, it is a pony of great quality and is much in demand for riding and for pack work.
It is a historic breed that has survived relatively unchanged for thousands of years.
Palaeolithic cave paintings of the Garrano still exist, much later it is said to have provided one of the many foundation bloodlines of the Andalusian horse.
Quality Garranos are a speciality of the famous horse fairs at Vila Real and Famalicao, where in the past they competed in traditional races run at a collected trot.
Facts about Garrano Pony Breed
Origin: Portugal – Garrano do Minho and Traz dos Montes.
Height: 10-12hh.
Colour: Usually dark chestnut.
Character: Intelligent, . highly dependable and dedicated towards its work.
Physique: Light-framed pony of excellent conformation. Abundant mane and tail. Strong, sure-footed, and extremely hardy.
Kathiawari and Marwari Pony | What are they like?
It is found all over India, thriving with the toughness of a goat.
Kathiawari ponies, from the Kathiawar peninsula on the northwest coast, and Marwaris, from Rajputana, are so much alike that there is nothing but repetition to be gained from treating them as separate breeds.
They are descended from indigenous Indian ponies crossed with Arab blood, said to result from the shipwreck of a cargo of Arab horses on the west coast, the survivors running wild and breeding with the natives.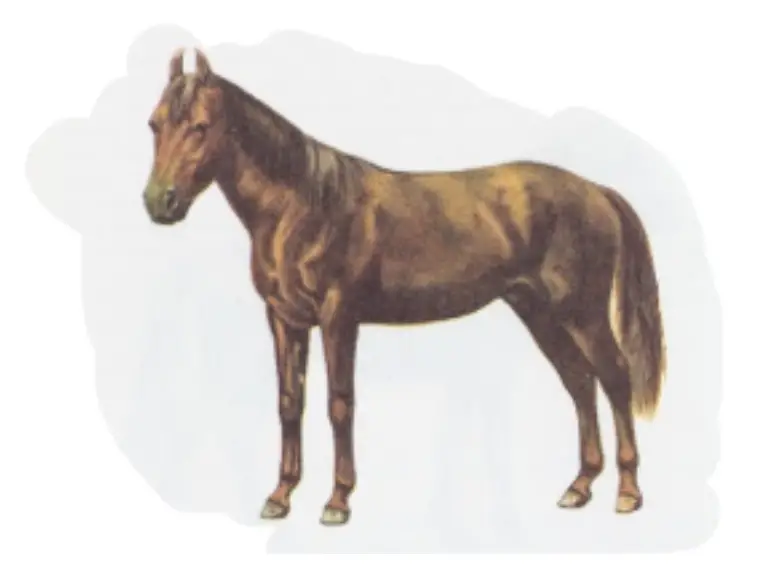 The tips of the ears point inwards so sharply that when pricked, they almost touch—the tendency to sickle hocks. A fairly widespread Arab influence, which breeds figures prominently in its ancestry, is apparent.
The less aristocratic of the two Marwari and Kathiawari ancestors, the common country-bred pony, is a wretched bag of bones, very narrow, standing roughly 13hh.
Fact about Kathiawari and Marwari Pony Breed
Origin: India.
Height: 14-15hh.
Colour: Any. Chestnut, bay, brown, grey, piebald, skewbald, and cream are the most common.
Character: Uncertain temper. Amazing toughness and endurance.
Physique: Light-framed, narrow pony, hardy, and able to live on next to nothing.
Spiti Pony Breed Characteristics
The Spiti pony is bred in the high ranges of the Himalayas and does not do well in the heat of the plains.
It is used as a pack pony on the unnerving mountain passes and is prized by its principal breeders, the Kanyats, for whom it provides one of the main sources of income in trade with neighbouring states.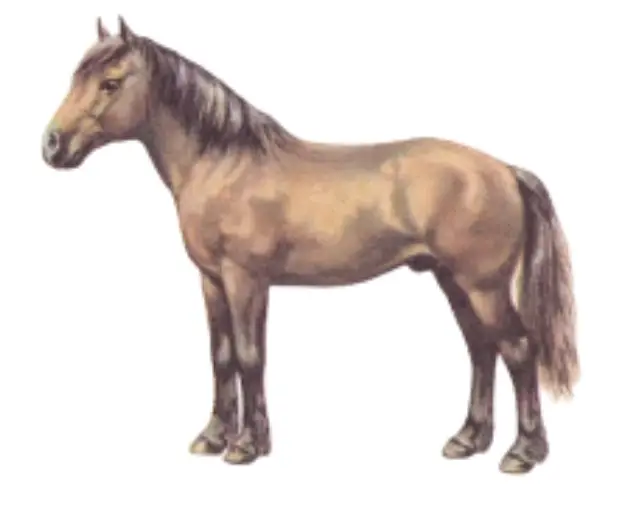 Its kinship to the ponies of Tibet is obvious from its appearance.
The head is intelligent and sharp-eared, set on a thick, short neck, the back short and strong. It has ample hindquarters and sturdy shoulders, legs short with plenty of bone, and hard, round feet.
Fact about Spiti Pony Breed
Origin: India – Himalayan Mountains.
Height: 12hh.
Colour: Usually grey.
Character: Intelligent, alert, tireless; not always of a good disposition.
Physique: A strong, thickset pony, sure-footed and up to weight.
Bhutia Pony Breed Characteristics
This pony, also from the Himalayas, is a larger but very similar version of the Spiti. 
It is the result of cross-breeding between local horses and ponies, including Spiti and other ponies, which resulted in the loss of their individual characteristics, thus resulting in the formation of the Bhutia Pony.
As these ponies are strong and hardworking, they are typically used for light agriculture work and carrying loads on farms.
Fact about Bhutia Pony Breed
Origin: India – Himalayas.
Height : 13 – 14hh.
Colour: Usually grey.
Character: Usually quiet, strong, resilient, and hardworking.
Physique: Short & thick Neck, Long and heavy mane and tail, strong legs, and large head.
Tibetan (Nanfan) Pony
The Tibetan pony, also called Nanfan, is an all-purpose breed used for riding, agricultural, and pack work.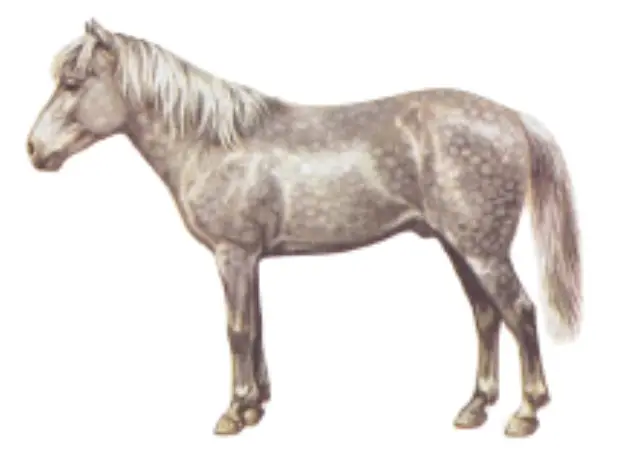 It is descended from Chinese and Mongolian ponies and is closely related to the Spiti and Bhutia ponies of northern India, whom it resembles.
Fact about Nanfan Pony Breed
Origin: Tibet.
Height: Average 12.2hh
Colour: All colours.
Character: Intelligent, active, enduring, and courageous.
Physique: Head intelligent and alert. Body strong, compact, with tail set low on strong hindquarters. Short, strong legs with plenty of bone. Well-shaped feet. Thick mane and tail.